Castor oil (right after argan and coconut oil) is one of the best-selling beauty oils. What properties does it display and why it is worth using?
Availability is its biggest asset. You can get it practically everywhere: online, at the drugstore, beauty shops. Still, we need to know which castor oil is the best – the one we use on the skin or hair needs to boast high quality. First things first, though.
Beauty benefits of castor oil
Quality castor oil is a remedy for skin and hair-related problems. Are you an acne sufferer? Ingredients in castor oil prevent bacteria from proliferating and reduce inflammation. Are you bothered by dandruff? Castor oil restores the scalp natural pH and keeps irritations at bay. Does your hair fall out in excess or you want to make it grow faster? Castor oil is the best natural oil for hair growth.
Actually, you are the choice-maker and can use it on your hair, face, nails, lashes or brows. The oil helps tackle bothersome problems in each case, naturally.
What's inside castor oil making it so exceptional?
Where do properties of castor oil come from? Naturally, from the ingredients that are preserved in oil after extracting it from the castor beans.
Among others, castor oil contains ricinoleic acid (unique to this oil, giving it hydrating and antibacterial properties), omega fatty acids (oleic, linoleic), saturated fats, but also flavonoids that show great antioxidative potential and, in turn, have antiaging effect.
Uses for castor oil
HAIR CARE: Castor oil repairs the hair follicles, protects against dryness, enhances proper hair growth process and speeds it up. Regular application may make hair more resilient, smoother and shinier, as well as secure the ends against splitting and damage.
EYELASH AND EYEBROW CARE: It is a natural eyelash serum which accelerates growth, strengthens and nourishes. It thickens the lashes but also the eyebrows, making them darker and fuller-looking.
FACE CARE: Because castor oil restores balance, soothes irritations and enhances functions of sebum glands, it works best for the more problematic complexions, like acne, oily skin, pigmentation marks. It makes the skin less oily, leaves it smoother and protects against dryness, enhancing the natural radiance at the same time.
NAIL CARE: Castor bean oil strengthens brittle, splitting nails by making them more resilient, smoother and shinier.
Which castor oil to choose?
See best of the best: castor oils you can use worry-free to eliminate any kinds of beauty concerns because their quality turns them into highly-effective, hard-hitting remedies. They do make a good choice because they offer:
natural formula without artificial additives.
100% pure, cold-pressed castor oil.
multiple uses in your daily beauty routine.
▶ Nanoil Castor Oil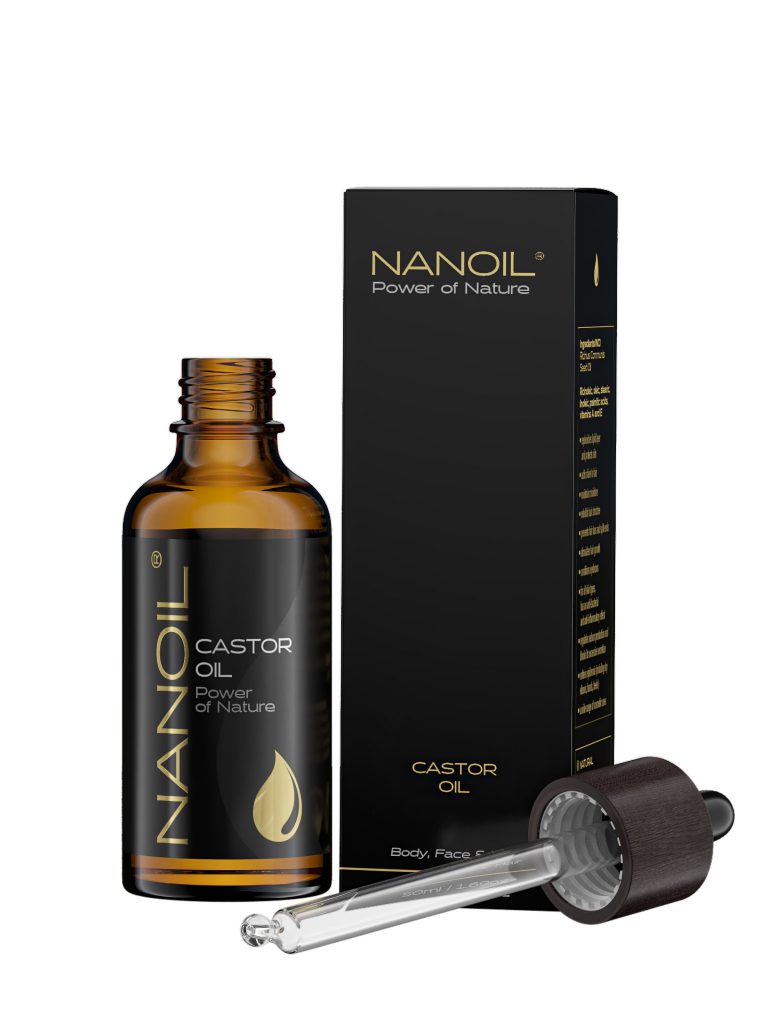 A black glass bottle is filled with 1.69 ounces of 100% organic, cold-pressed, unrefined castor oil with an Ecocert seal. No alcohols, no silicones, no coloring agents, no parabens. Nanoil Castor Oil is a top-notch beauty product that handles all hair, skin or nail problems even if you've got really sensitive skin or search for cruelty-free product. Beauty professionals love it for effectiveness in hydrating, nourishing and protecting the complexion and hair without leaving a greasy or tacky layer: Nanoil Castor Oil is absorbed swiftly to enhance hair growth, repair damaged nails or make your face glow. It can be used alone – as eyelash serum, make-up remover or scalp treatment – or together with other beauty oils by Nanoil (see more information about them here www.nanoil.us).
▶ Kate Blanc Cosmetics Castor Oil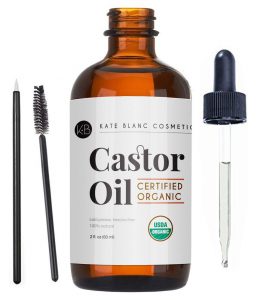 Kate Blanc Cosmetics offers another popular castor oil. This cold-pressed, non-refined and organic oil has the USDA certificate. You can get it in three sizes while the smallest bottle holds 2 ounces of the product. The bottle design – typical of the brand – is the only thing that makes it stand out; inside it's odorless, quite thick castor oil. Kate Blanc Cosmetics Castor Oil can be used on skin of the body and face, but also hair, lashes and brows: any part of your body that could use some hydration boost, enhancement or protection provided by castor bean oil. Using it instead of a lash or brow serum is easier with the two applicators attached: a spoolie and a pointed brush.
▶ Aria Starr Beauty Castor Oil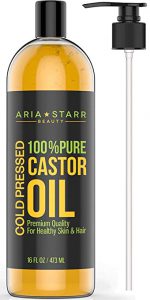 Aria Starr Beauty offers another premium castor oil to use on the skin or hair. The unrefined, cold-pressed oil comes in a shockingly big bottle with 16 ounces of the product! It is recommended as an all-round skin-care product (for body and face), hair enhancer, and even as a natural lash serum. A plastic bottle and simple pump are supposed to make the application easier but they surely don't add to the product's attractiveness.
▶ Briogeo B. Well Castor Oil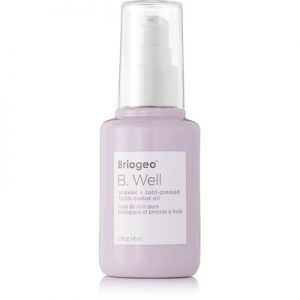 This product can be labeled as a luxury version of castor oil, mostly because of the price. For only 1.5 ounces of cold-pressed, unrefined, organic castor bean oil you pay a few times more than for other oils in our list. The brand decided to put it in a uniquely-looking pink bottle. Instead of a dropper, it comes with a pump. Briogeo B. Well Castor Oil is specially designed for improving the hair: fine or thick, straight or curly, dry or greasy strands. It fulfils this role very well and its quality is very good.
▶ Satin Naturel Castor Oil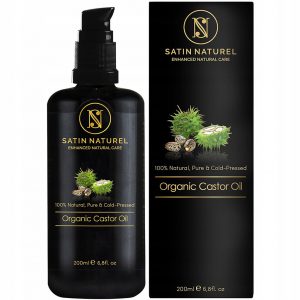 One of the most expensive castor oils is organic, cold-pressed, pure oil from Satin Naturel. The product isn't packed with any additives, but it's pure castor bean oil from India. The first thing that strikes us is a very elegant bottle, a convenient pump applicator and a big size (over 6 ounces!). There are no surprises as far as effects goes; use it on your hair, skin, nails, and lashes. It enhances the natural hair growth, strengthens the hair follicles and balances the skin.
▶ Mohani Castor Oil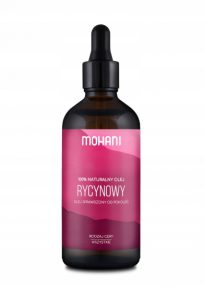 Another brand isn't as popular as others in our list but it's worth noticing anyway. The castor oil in their offering is cold-pressed, unrefined, extracted from castor plant, and rich in beneficial fatty acids and vitamins. It is packed in dark glass 3.38-ounce bottles with a dropper typical of beauty oils. Mohani castor oil is suitable for lashes and brows (thickening and color enhancement), hair and scalp (dandruff reduction, strengthening, smoothness, shine), nails (repair and softness), and skin (thorough cleansing and balance).