Nanoil Argan Oil is a natural oil extracted from fresh nuts of Argan trees. Naturally, they can be found only in one region of the world – the southwestern part of Morocco. The Nanoil brand, which specialises in natural formulas, offers certified, organic, and hypoallergenic argan oil for all skin and hair types.
---
Argan oil Nanoil – benefits and uses
Nanoil Argan Oil is vegan-friendly and doesn't contain parabens, silicones, PEGs, perfume, synthetic dyes, and other harmful substances. It's a 100% natural argan oil from a certified source. Its highest quality is certified by Ecocert. Nanoil Argan Oil is dermatologically tested, organic, and cruelty-free. It's cold-pressed and unrefined to make sure it retains a maximum of its beneficial properties. Argan oil is filled with antioxidants, responsible for neutralising free radicals, which damage our skin, speeding up the ageing process. These harmful oxidants are formed when we expose ourselves to UV rays, chronic stress, smoke cigarettes and drink alcohol, or inhale the polluted air.
However, Nanoil oil doesn't only work on the skin. It also conditions hair, brows, lashes, and nails. It can successfully replace serums for ends, brow and lash conditioners, or regenerative oils for damaged nails. Adding it to your favourite cosmetics can boost their moisturizing effects but also strengthen their antioxidant properties.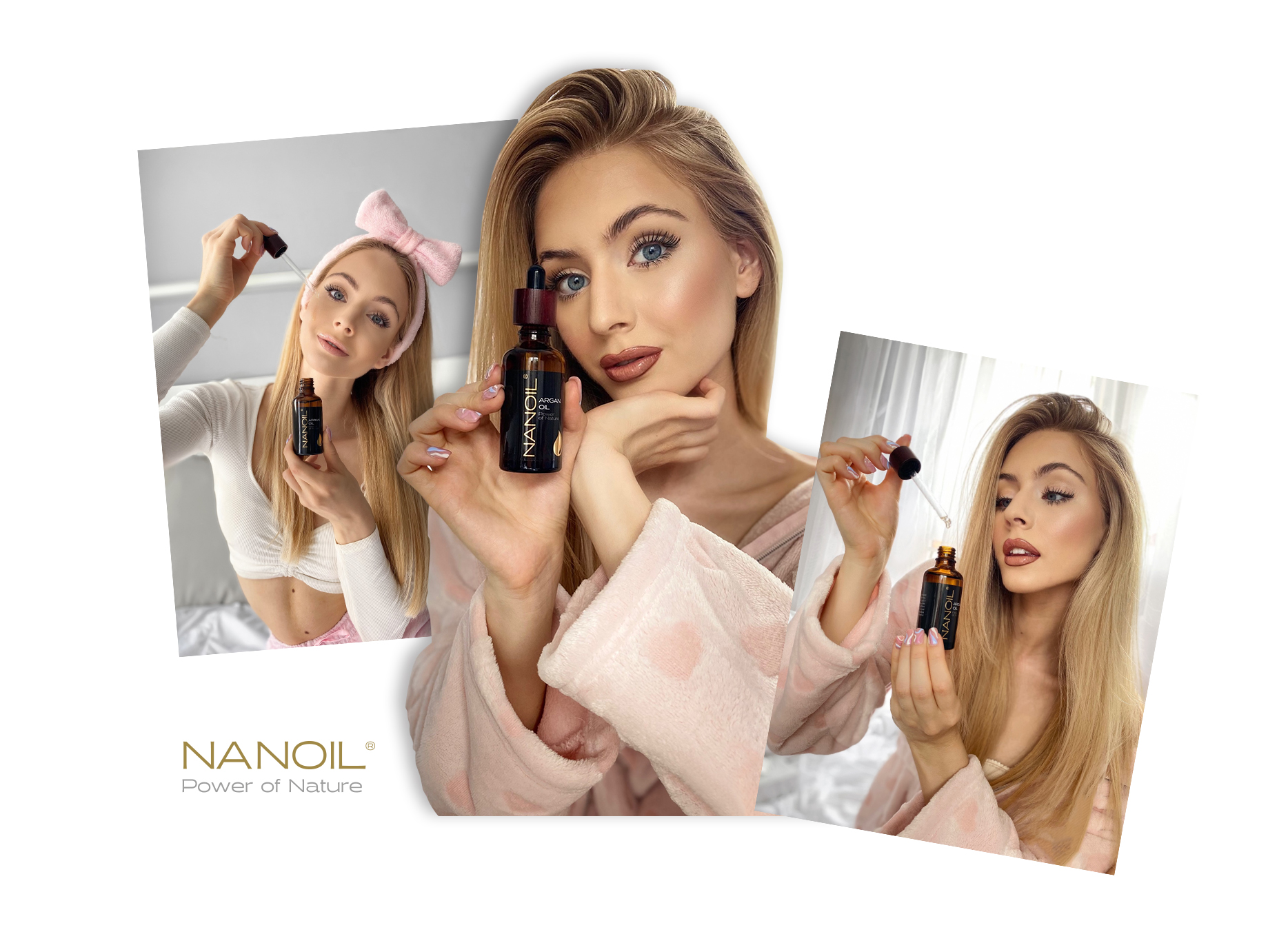 Nanoil Argan Oil – active ingredients
Nanoil argan oil is mostly made of unsaturated oleic and linoleic fatty acids. EFAs (essential fatty acids) used in cosmetics primarily have moisturizing, protective, and soothing functions. Acids help maintain proper hydration of the skin, prevent moisture loss, and stimulate cells to increase the production of collagen and elastin, responsible for the healthy and youthful look of the skin. Their lubricating properties have a positive effect on the natural hydrolipid skin barrier.
The oil is rich in natural nutrients, like:
natural antioxidants: they provide natural protection from free radicals and UV rays and they can also eliminate the effects of oxidative stress. They include vitamins A, C, D, and E but also selenium found in argan nuts and seeds.
vitamin E: it neutralises the damaging effects of free radicals, delays the appearance of wrinkles and reduces them, restores the youthful glow to the skin, and evens the skin tone. It is dedicated especially to sensitive, thin, and delicate skin. Vitamin E can penetrate the deepest layers of the skin.
polyphenols: they strengthen and seal blood vessels, improve microcirculation, and have anti-ageing, anti-inflammatory, and antibacterial properties. They are also strong antioxidants, that prevent blemishes and sunburn,
carotenoids: they have anti-acne and anti-ageing properties, they can improve the tone of dull and tired skin, eliminate blemishes, soften and revitalize the skin, and they control the function of the sebaceous glands.
More information on Nanoil products can be found on www.nanoil.us
---