Do you know you can successfully repair damaged hair at home? You will be surprised to see that a good keratin-rich hair mask can give you salon-quality effects. You just need to reach for a trusted cosmetic that guarantees success. Which keratin mask is best? You don't need to spend hours comparing different products because we rounded them up on the basis of consumers' opinions. See the best-selling keratin hair masks and choose the best one!
Effect of keratin on hair
Keratin is an exceptional structural protein which builds the hair, nails, and skin. This chief building block is responsible for the health, nice appearance and strength of human hair. When the amount of keratin diminishes, the hair – its structure and look – gets worse. In other words, keeping an optimal amount of keratin in hair is essential to keep it stunning. The harsh weather conditions, coloring, blow-drying or heat styling are to be blamed for most cases of hair damage. Don't let that affect your strands. Totally ruined hair can be fixed with scissors only. However, a good keratin mask is able to revive damaged hair. It just needs to be rich in fine-quality keratin.
Hair Repair with a Keratin Mask
What can you expect from a good keratin hair mask? Naturally, it has a strengthening effect, but also enhances the look of hair. Some patience and regular application will supply your strands with top-quality form of keratin so that they can look stunning, become stronger, shinier and easy to work with. You will avoid hair breakage, frizz, falling out in excess. If your hair is extremely damaged and weak, you can use a mask even every 3 or 4 days. The strengthening and beautifying effect won't take long to appear.
Is a keratin mask good only for damaged hair?
Because keratin is a hair-building ingredient, it must be constantly replenished. This form of prevention secures the hair so that you don't need to worry about damage. A keratin mask is a great form of enhancement for hair and if yours is healthy you don't need to use it often: devote 20 minutes per week and use the mask regularly to keep the hair flawless.
How to find a good keratin hair mask?
Are you looking for a good keratin product? You're in the right place! We gathered all noteworthy masks. This ranking includes the best-selling keratin hair masks that get rave reviews from the users. The best one should have the following features:
An optimal concentration of keratin.
Good extra components.
Good price (nobody likes to overpay).
The best effects.
The highest opinions.
The best keratin masks. Ranking features the most popular products among consumers.
Nanoil Keratin Hair Mask 300 ml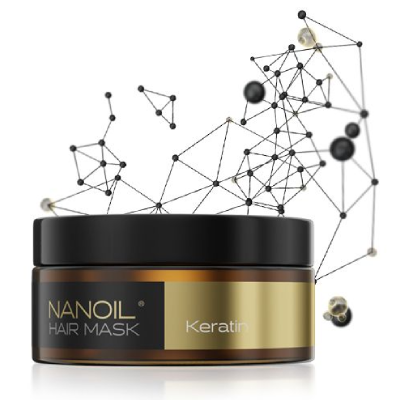 An excellent mask in a large-sized jar smells amazing. Everything is perfect about it: the size, price, effects, ingredients… Nanoil Keratin Mask has been hailed as the best hair mask because it repairs damaged, brittle, dull hair. It's also loved for the instant effects: hair gets shiny, super smooth, nice to touch, and looks stunning. It won't leave hair overburdened and works well even for fine hair. Nanoil is a brilliant treatment both for damaged and healthy hair: it strengthens, conditions and beautifies from the first use.
For more information visit – www.nanoil.us
Paul Mitchell Awapuhi WildGinger Keratin Intensive Treatment 150 ml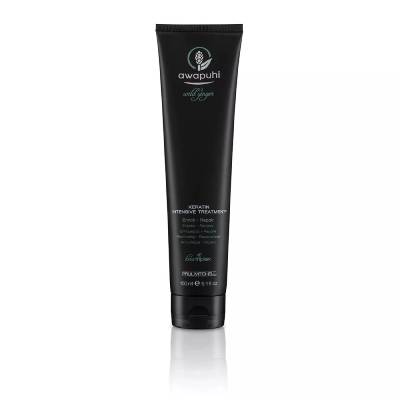 This mask contains quite a lot of keratin, has good ingredients and smooth texture, but the size and price are discouraging. Paul Mitchell Awapuhi WildGinger Keratin Intensive Treatment is rich in Kera-Triplex Complex made from keratin molecules which are similar to keratin in human hair. The mask is recommended for fine, weak, fragile hair which is prone to static flyaways. It is a highly-concentrated blend of proteins which deeply repairs, intensively moisturizes, and protects against damage. Regular application makes hair shinier and more resilient.
Wella SP Luxe Oil Keratin Restore Mask 150 ml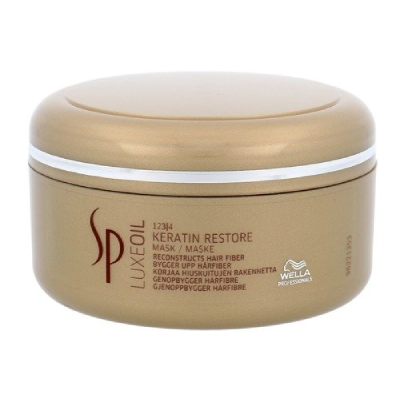 A good price is the thing that appeals to fans of keratin who chose Wella SP Luxe Oil Keratin Restore Mask. The jar is quite small so the price isn't as attractive as it seems. Still, the mask is a good conditioning product with a sufficient dose of keratin to protect the hair against damage because of blow-drying or heat styling. Wella SP Keratin Mask holds some natural oils which lock water in hair and prevent extreme dryness. The mask is quite thick so it's unsuitable for fine, delicate hair.
Rene Furterer Absolue Kératine Renewal Care Ultimate Repairing Mask 200 ml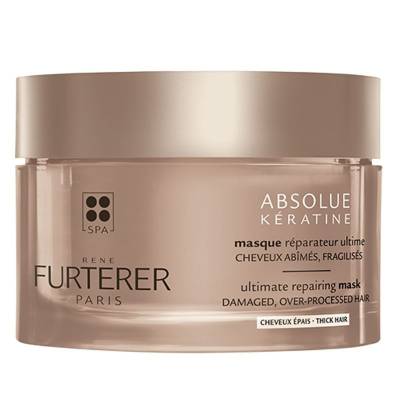 Rene Furterer Mask is one of the most expensive keratin masks on the cosmetics market. Would you like to buy a 200-ml product which costs a few times more than really high-quality masks? This overpriced mask contains plant-derived keratin and a blend of aromas (bergamot, peony and cashmere wood notes). Apart from keratin, the mask contains soy extract which nourishes and strengthens the hair, and linseed oil which maintains hydration and controls the frizz.
Goldwell Kerasilk Control Mask 200 ml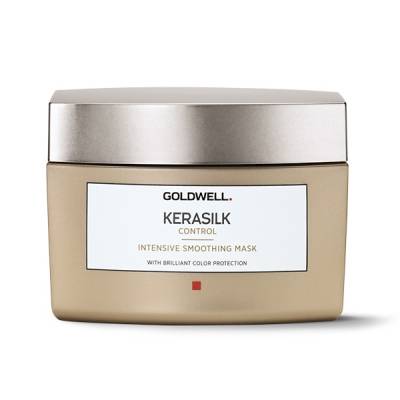 Is your hair unruly, tangled or unmanageable? Try Goldwell Keratin Mask which leaves hair smoother and shinier. The formula also contains liquid silk which tames hair, making styling and brushing easier. Goldwell Mask is quite pricey so most people don't buy it again. One jar lasts for a few weeks. The mask is suitable for all hair types.