Honey-Based Face Cream For Everyone? GHASEL Maltese Honey Face Moisturiser!
Honey is the king ingredient in many beauty products. Its impressive range of applications makes it continuously popular. GHASEL brand kept it in mind while creating their iconic Maltese Honey Face Moisturiser.
Honey has been known and popular for ages. It's used in medicine, skin care and is eagerly consumed. It owes its unique properties to its rich formula, including glucose, fructose, fatty acids, carotenoids, enzymes, vitamins and mineral salts.
The active ingredients contained in this delicacy have beneficial effects on the skin, regardless of its type. Its antibacterial and anti-inflammatory properties are used for acne-prone, oily or combination skin. Honey minimises inflammation, eliminates blemishes and regulates the sebaceous glands.
How does Maltese Honey Face Moisturiser work?
This highly moisturizing and regenerative cosmetic can restore even the most damaged, saggy and dry skin. Its anti-aging properties prevent premature wrinkles and fine lines. It gently exfoliates the skin, cleanses and evens skin tone, boosting a beautiful and healthy glow.
The moisturiser leaves the skin hydrated for 24 hours. That's not all! With regular use, it boosts skin defence, making it resistant to environmental pollutants, UV rays and harmful free radicals.
The combination of carefully-selected ingredients energises the skin and leaves it in excellent condition. It tightens, firms and smooths skin in need of rejuvenating and vitality. It is created for anyone who wants to regenerate and nourish their dry skin.
Ghasel Face Moisturiser – ingredients
These unique ingredients combat all skin problems.
Maltese honey is the base of this beauty product. Its high concentration allows revealing its full potential. It reduces scars and discolorations, smooths wrinkles and fine lines, and above all – provides valuable all-day hydration. It provides suppleness and elasticity to the skin, smooths it, and its anti-aging properties don't let your skin betray its age.
Boosted with shea butter, it prevents moisture loss. This lubricating ingredient doesn't leave a greasy film… Instead, it delivers nourished and soft skin. It soothes irritation and blemishes while stimulating collagen and elastin production. It also has smoothing and moisturizing properties.
The anti-inflammatory and antibacterial castor oil is important for skin regeneration. The stimulating properties of caffeine leave the skin full of radiance, without signs of fatigue. Its anti-aging properties are appreciated all over the world, making it a common ingredient in beauty products.
Vitamins B6 and E are powerful antioxidants that effectively combat free radicals and oxidative stress. Their anti-aging properties unify skin tone and boost a youthful glow. Combined with plant extracts from sage and green tea, they improve skin suppleness, tone and cleanse the skin.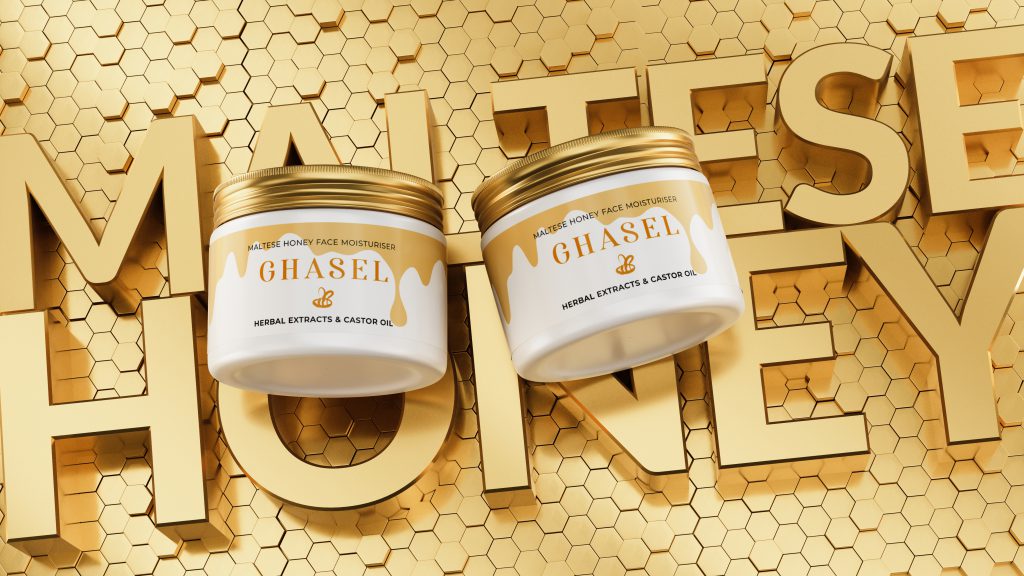 If you want to provide your tired skin with 24-hour hydration, introduce Ghasel Moisturiser to your daily skin care routine. You can notice the results from the first use! Learn more about the product: www.ghasel.mt.
---