Upgrade the prestige of your hair salon with ColorCuts Highlighting Foam Strips!
The best hairdressing salon is one that keeps developing and follows new trends. Try out ColorCuts thermal foam strips to streamline the workflow of your crew and provide the highest comfort of colouring.
Highlighting Foam Strips are a combination of the latest technology and harmony with the environment. They combine innovation with mother nature to upgrade the prestige of your salon.
Highlighting Foam Strips
This sensational product is a top choice among professionals. Qualified staff and good-quality cosmetics are not enough. Top-quality accessories can improve the aesthetics of colouring procedure. The Maltese brand ColorCuts has created lightweight, thermal foam strips that make multi-layered colouring easy and fun.
A stunning sombre, ombre or balayage with minimum effort? Now it's possible! Highlighting Foam Strips are pre-cut and ready to use. They are suited to both short and long hair, thanks to their dimensions: 100×305 mm.
Highlighting Foam Strips provide the best alternative to aluminium foil. The strips don't cause damage, overheating or irritation. It's a convenient gadget dedicated to professional hairdressers and trainees. It delivers maximum comfort and safety with no risk of damage.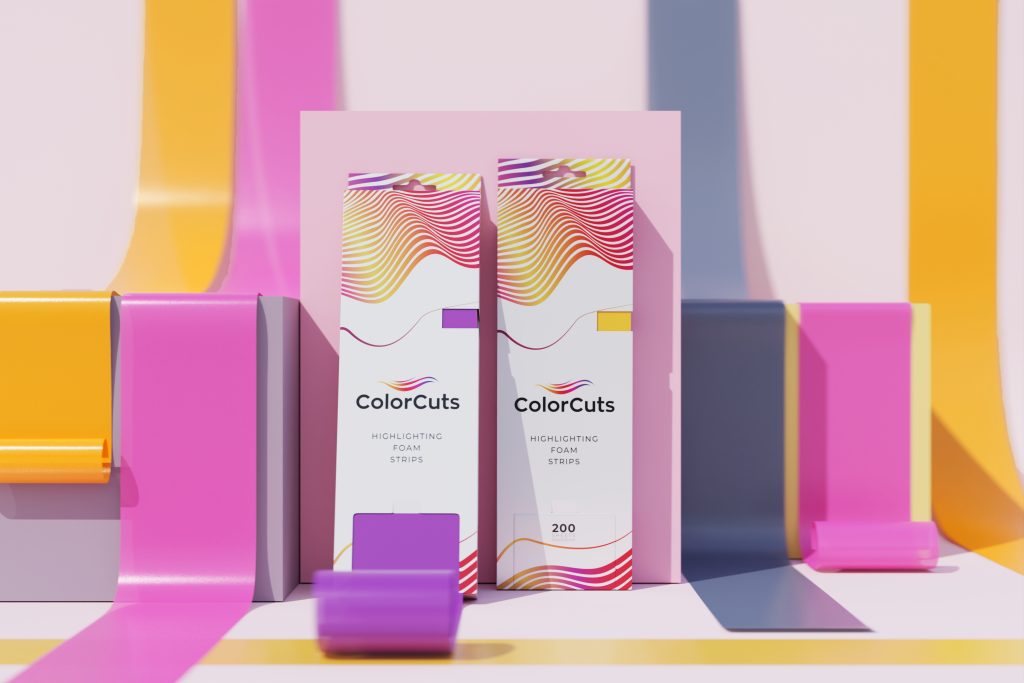 Why choose ColorCuts?
It's a guarantee of professional, precise colouring from the roots to the ends. The thermal strips can cut colouring time by half. The unique coating means you don't have to waste time on the frustrating cutting of aluminium foil.
Highlighting Foam Strips give you complete control over your colouring process. The different colours of the foam strips allow you to distinguish between the shades of colour used. These lightweight, flexible and thin strips were designed for all colouring techniques. They are made of polystyrene foam for a comfortable and aesthetic colouring procedure.
The box contains 200 strips that can be washed in a washing machine and reused, allowing up to 800 uses. The material is recycled and recyclable. They don't tear, crease or rust. They are flexible and comfortable to use and they come in an elegant and handy box.
The strips allow you to create unique flamboyage, babylights, sombre, ombre, splashlight, bronde or any other combination your client can dream of. The strips facilitate the application of hair dye from the very root of the hair, down to the millimetre.
Highlighting Foam Strips are gentle on the hair, non-irritating and get adhesive once they contact the hair dye. They don't slip off the hair and can be folded and trimmed as desired. They are extremely easy to use, so colouring time is shorter even by up to half!
Thin, flexible, lightweight and biodegradable foam strips provide the ultimate comfort and aesthetics. They don't cause any damage and don't rustle or irritate. Their semi-transparent coating allows you to maintain total control over your colouring process. This is the perfect solution for any hairdressing salon that wants to upgrade its prestige and attract more clients. Learn more about the product: www.colorcuts.mt.