Here's a treat for seekers of high-performance skin care products! We present a Nanoil Anti-Redness Face Serum. If you're in the middle of searching for a terrific item that will care for your skin gently and effectively, you must keep reading. We round up 7 reasons why Nanoil serum is worth using, not just on broken capillaries.
1. You won't find another facial serum that is so lightweight.
Many face serums are thick and greasy, which means they don't work well on problematic complexions like couperose-prone, hypersensitive skin. By choosing Nanoil Anti-Redness Face Serum you can be sure your skin is enhanced by a weightless, water-based product which takes a few seconds to absorb. Without oily layer, without heavy feel, without congested skin.
2. It is the best blend of natural ingredients.
If your skin is prone to irritation, then the components in your cosmetic products matter enormously. You can go for Nanoil Anti-Redness Face Serum worry-free because it contains only the necessary natural ingredients. Phthalates, parabens, PEG-s or synthetic aromas and fragrances, which take the blame for most skin reactions, are not included in this product.
3. Nanoil Anti-Redness Face Serum is rich in as many as 4 plant extracts.
What is Nanoil Anti-Redness Face Serum based on? It abounds in botanicals which deeply nourish, moisturize and condition our skin. It is infused with a capillary-strengthening buckeye extract, anti-inflammatory lime tree extract, antioxidant-rich extract from an Ayurvedic plant called Punarnava, and cypress cone extract which repairs the complexion.
4. It is the best serum to address any kind of skin irritation.
Anyone whose skin is problematic should make use of the blessings of those botanicals. This serum isn't exclusively designed for treating broken capillaries. If your skin is sensitive, prone to irritation, paper-thin and delicate – Nanoil is a great choice. It helps alleviate burning sensation, itchiness, redness and symptoms like broken capillaries and dark spots.
5. Nanoil serum brings relief right off.
Once you use this serum, you won't feel like giving it up, ever. The hydration, relief and freshness are real and will make Nanoil your favorite skin care product. Soothing effect is what your sensitive skin longs for the most.
6. It is multi-tasking, bringing back skin's health and beauty.
Soothing inflamed skin isn't the only thing it can do. Nanoil Anti-Redness Face Serum gives you a prettier face by combatting visible spider veins, redness and hyperpigmentation. With each next use, your skin gets more nutrients, is smoother and more elastic. In the long run, it won't be as reactive and sensitive, plus it will look healthier, younger and more fabulous.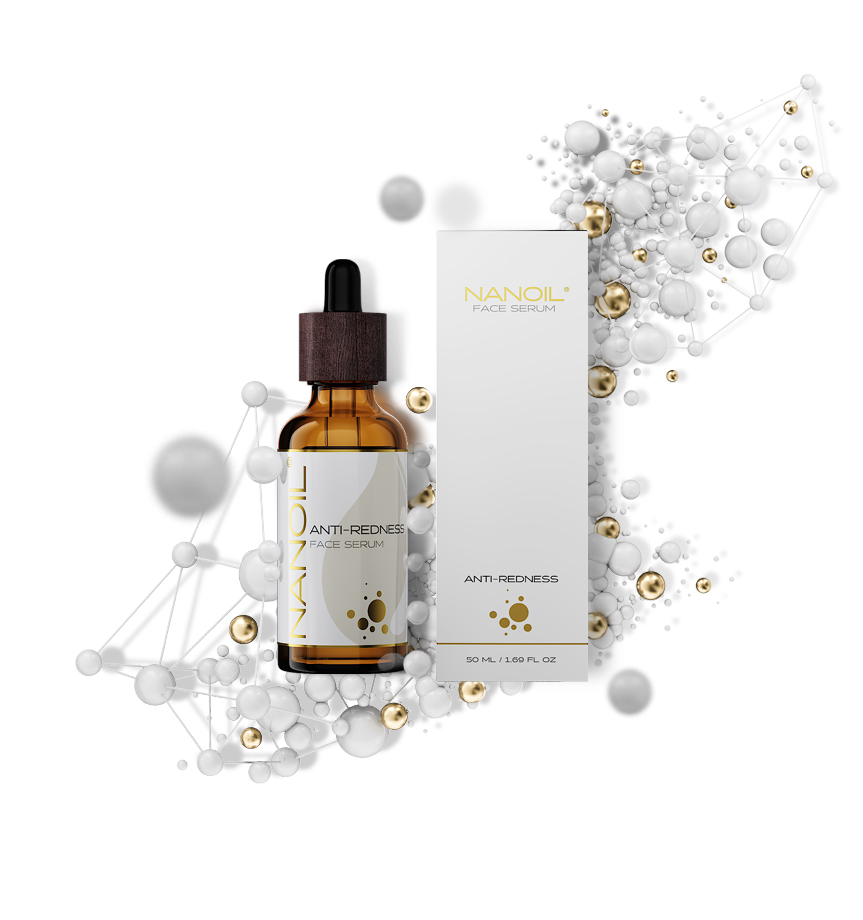 7. The application is surprisingly easy.
You don't believe great effects can be achieved easily, do you? Thankfully, Nanoil Anti-Redness Face Serum is super easy to use. Take a small amount of serum and pat it on the face gently. It's good to use a moisturizer next.