Recipe for perfect hair care cosmetic?
Reach out to the nature and mix various high quality oils.


Add a pinch of magic – i.e. unique complexes for hair growth stimulation.


Spice it up with vitamins E and A – so that strands preserve young appearance.


Some UV filter – the best protective shield against the sun.


Dip it all in panthenol, keratin and silk – beloved substances of the hair.


Avoid parabens, silicones and other unfavourable to hair substances.
Such recipe guarantees the success in hair care.
Nanoil knows it best and created hair oil of 21st century. This cosmetic is a breakthrough in regeneration and hair nourishment. It is not only safe to strands and scalp, but also polished in every aspect:
… from stunning, classic glass bottle

… through perfectly composed composition and scent

… to meticulous analysis of human hair, that allowed to isolate three types of it and create separate product for each of them, each with a bit different composition.
It's all so that your hair derived maximum benefit and beauty day after day – starting with first application.
What is Nanoil action? What do its three versions contain? Read below article, define your hair condition, then choose right Nanoil hair oil for it and provide your strands with perfect and complex care.
Nanoil hair oil – why 3 versions?
Nanoil is a brand that knows there is no such thing as one universal hair type. Studies on human hair structure, i.e. porosity, allowed to differentiate 3 porosity types: low, medium and high.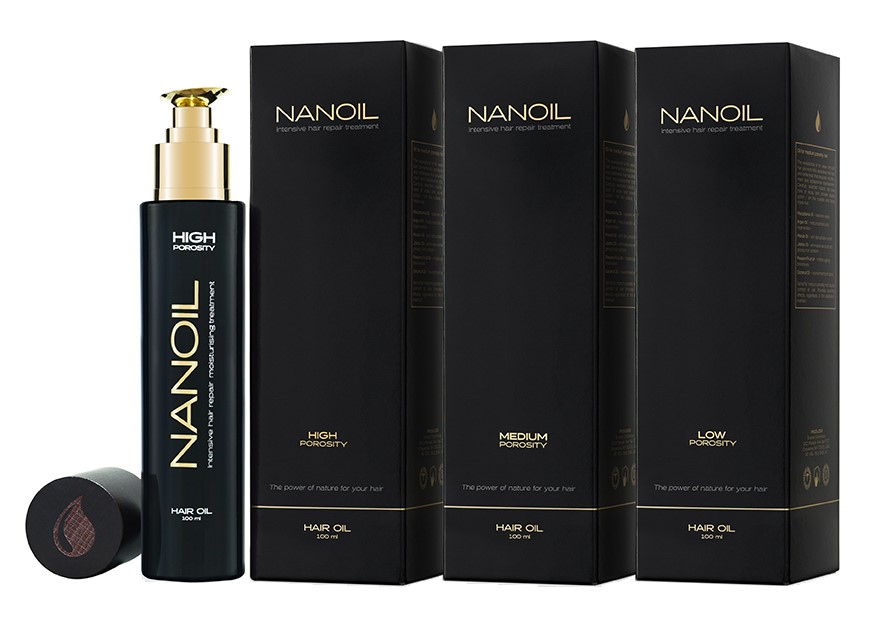 What is hair porosity?
This is level at which hair cuticles are raised from the hair shaft. The more raised cuticles the more damaged and weak hair. Every hair type requires other care, because it looks and behaves entirely different when combing, styling, drying. Each of three porosity types needs different nutrients, so that hair not only looks beautiful, but also be healthier day by day. For this reason Nanoil is available in 3 versions and each of them is responsible for different hair type. Simple!
3 POROSITY TYPES + 3 NANOIL HAIR OILS = PERFECT CARE
Hair oil – what do each of 3 Nanoil hair oils contain?
Below text describes every Nanoil hair oil version and hair types for which it is dedicated. To choose right version for yourself, just take a look at your hair and match it with the correct type.
Nanoil for low porosity hair
Characteristic: thick and heavy hair, which cuticles closely adhere to the shaft. This hair is not prone to damage so quickly like the others seem to and does not lose so much water, however, there are numerous other problems it suffers from: strands are heavy and it is difficult to increase their volume. Hair is often flat, weighted down with excess cosmetics and improper care. Can suffer from greasy roots, be stiff and extremely difficult to style. Scalp does not have right air circulation and all its processes are disrupt.
Action: Nanoil for low porosity hair contains only balanced oils with small particles, that are able to penetrate inner hair structures without weighting it down. Nanoil for low porosity hair is an advantage of, so called penetrating oils, that nourish hair on the inside, and above all protect it against damage and the sun. Hair oils for low porosity hair provide strands with softness and make them silky smooth in touch. Nanoil for low porosity hair conditions scalp by balancing sebum secretion and making hair bounce up at the roots, while scalp is cleansed.
Active substances:
Nanoil for low porosity hair contains 9 natural oils, perfect for the structure of discussed hair type. These are: Siberian pine oil, coconut oil, argan oil, castor oil, shea butter, passion fruit oil, babassu oil and monoi oil. All the oils were carefully chosen and put together in right amounts to take the best care of thick and heavy low porosity hair. Natural oils in this version of Nanoil hair oil provide softness, lightness, nourishment and gloss as well as cleanse the scalp, balances the processes on its surface.
Due to over-secretion of sebum hair bulbs condition can worsen and contribute to hair loss – therefore Nanoil hair oil consists of unique complexes, that not only prevent hair loss, but also speed up new hair growth and strengthen hair bulbs. Strong hair bulbs grow healthy hair.
However, this is not the end of Nanoil hair oil benefits – power of natural oils is enhanced by numerous conditioning and regenerating ingredients: panthenol (provitamin B5, smoothers and moisturises hair) and UV filter, preventing damage and hair ageing due to sun exposure.
Nanoil for medium porosity hair
Characteristic: hair devoid of thickness and volume, begin to suffer from greasy roots and split ends. This hair type is often matte, frizzy due to humidity, happens to be greasy at roots, while ends are dry. Medium porosity hair lose the elasticity and vitality, so it requires strengthening from the roots all the way to the ends in order not to start falling out excessively.
Action: Nanoil for medium porosity hair acts on scalp and hair bulbs, balances processes on its surface and strengthens hair bulbs, so that hair would not fall out but grow strong and healthy. At the same time Nanoil hair oil boosts blood circulation in scalp, so heretofore dormant hair bulbs are forced to work – this results with new hair growth and the entire hair style gaining volume. Oils contained in Nanoil hair oil restore gloss, vitality and elasticity, take care of hair ends and prevent frizzy strands. Nanoil tames hair, improves its condition and ensures profound regeneration.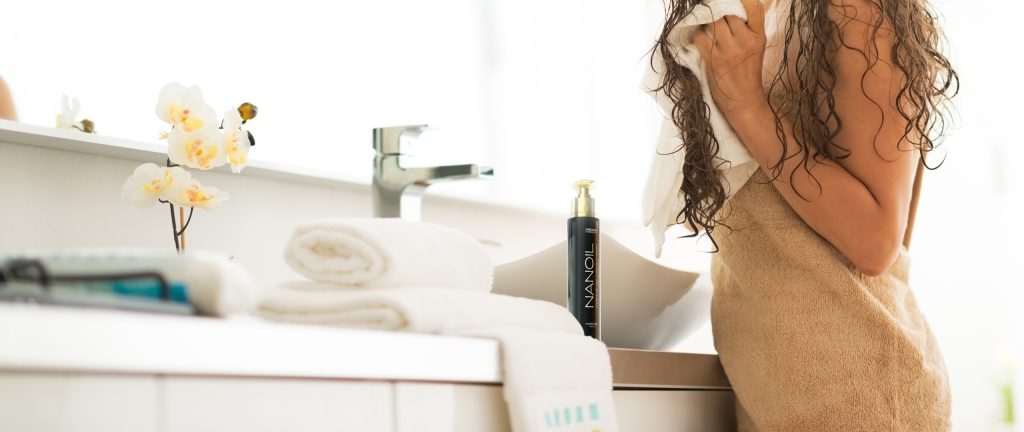 Active substances:
In this version of Nanoil are 6 natural oils that perfectly match hair with medium porosity: macadamia oil, argan oil, marula oil, jojoba oil, passion fruit oil, coconut oil. All of the aforementioned oils are unrefined and cold pressed from seeds and nuts of plants. This makes them preserve their precious properties, essential fatty acids and vitamins that condition hair, scalp and strengthen hair bulbs. Moreover, Nanoil for medium porosity hair contains two exceptional complexes (kerastim and baicapil), which prevent hair loss, strengthen hair bulbs, contribute to faster hair growth and stimulate keratin production – main hair lumber. What is more, Nanoil for medium porosity hair holds liquid silk which beautifies hair from the very first application, making strands glossy and soft, while UV filter protects hair against intense, dryness causing sun.
Nanoil for high porosity hair
Characteristic: hair extremely dry, brittle and with split ends, frizzy and overly weak. Strands of this type have highly raised cuticles, so it is extremely difficult to hydrate them (they immediately lose water and their hydro-lipid barrier is disrupted). Dry ends, weak hair bulbs, hair devoid of volume and density, that lost the gloss – these are the most popular features that determine high porosity. This is accompanied by dehydration and prone to irritations scalp. High porosity hair tend to suffer from fly-aways and its inner structure is damaged.
Action: Nanoil for high porosity hair is a balance of perfect oils with regenerative and restorative properties, which match significantly raised cuticles. Nanoil complements deficits on hair surface, strengthens hair bulbs, moisturises and repairs the balance on scalp by preventing water loss. Nanoil for high porosity hair is a versatile serum focused on regeneration while amplifying hair appearance from the very first application. Thanks to it, strands gain gloss, become bouncy and devoid of roughness. Nanoil improves work of sebaceous glands, so hair has better condition and vitality, start to grow faster and is thicker.
Active substances:
Nanoil for high porosity hair is a symbiosis of natural oils with large particles, which are able to provide deep regeneration to damaged strands, but also protect hair against damage. Nanoil for this important mission chose: almond oil, argan oil, evening primrose oil, avocado oil, passion fruit oil, cottonseed oil. These will regenerate hair and scalp. Their action is supported by numerous precious ingredients, essential to proper functioning (and appearance) of hair: panthenol, keratin, lanolin, silk. The enumerated substances enhance keratin production, smoother, repair damages, make styling easier and soften hair. The balance between natural oils, ingredients supporting hair condition and two unique complexes (baicapil and kerastim) makes Nanoil hair oil exceptional weapon in fight for healthy and entirely renewed high porosity hair.
There is no better recipe for spectacular and healthy-looking hair than Nanoil.