New Vice lipstick collection from Urban Decay is truly enormous. There are 100 colours with six different finishes. And among them are four extraordinary shades: Disturbed, Conspiracy, Frenemy and Pandemonium. Check why those lipsticks are so amazing.
The choice is enormous! In the Vice collection there are light and dark shades as well as those more and less pigmented. On top of it, Urban Decay took care of lips having various finishes. We are taking about: mega matte (cosmetics with strong matte), comfort matte (lipsticks with slight matte finish), cream (natural and delicate gloss), metallized (gives pearly finish), sheer (products providing gloss) and sheer shimmer (delicate pearl gloss). All lipsticks in Vice line are highly pigmented. For this reason, one stroke is enough to achieve your dream effect of gloss and perfectly covered lips. Urban Decay made sure that consistency of their cosmetics will aid every application.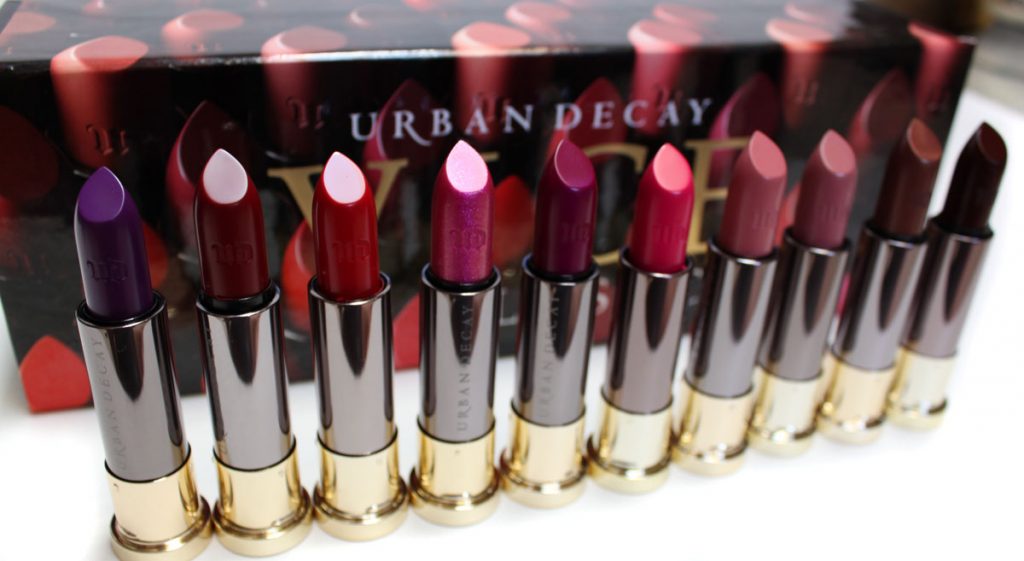 The composition of Vice collection was enriched with the power of natural ingredients. Among many: aloe, jojoba oil, avocado extract, babassu oil, vitamins C and E. Those ingredients provide lips with nourishment and moisture. What is more, they protect against dryness and damages, and provide lips with softness. They have antioxidant and smoothing properties, eliminate free radicals, prevent premature wrinkles and protect delicate skin of lips.
What are those new four shades of Urban Decay Vice collection like? Disturbed is a classical colour. Some of you may think of it as too dark. However, the rest of the colours are much more cray cray. Conspiracy is a metallic brown with golden pigments. It will work great on full lips. What is more, it will fit summer make-up and subtly underlined eyes. Frenemy is a pink-violet shade. This colour lasts long on lips, does not rub off during the day and provides intense finish. It is perfect for a date. Pandemonium, on the other hand, is the bravest colour from the entire Urban Decay Vice collection. This purple lipstick is a perfect choice for a wild party.